***Temporary Changes to Food Bank Service***
Due to the Covid-19 outbreak we have had to make a few changes to how we operate the food bank. We are still open to support those on a low income or with financial issues, but the building is closed. Anyone wishing to access the service should call us first on 01289 303366 to undertake a short telephone interview before being asked to collect their parcel or to arrange a delivery. Anyone wishing to donate items to the food bank can still do so directly to us, please ring the bell and a member of staff will deal with your donation.
Please be patient with us during this time, we are running on lower staff numbers than normal.
Food bank use has risen considerably over the last few months, we are supporting a larger number of people, which includes elderly residents who are shielding, residents who are furloughed with lower income than normal, and those who have became unemployed and made a recent claim to benefits.
We have just produced issue 2 of our Coronavirus Impact Report. Click the links to view the documents:
Foodbank Coronavirus Impact Report, Issue 1
Foodbank Coronavirus Impact Report, Issue 2
Berwick Food Bank is available to any household who may be in crisis or have financial restrictions. The service is predominantly made up from a number of volunteers who give up their time to make the service sustainable, but our staff also use their time to assist and provide the service.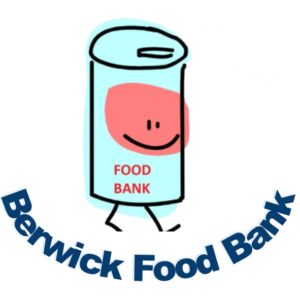 Food Bank COVID-19 Opening Hours

N.B The foodbank is often busy and sometimes you may be given a timeslot or asked to wait if staff are busy with other customers.
Easter Monday
Closed
Tuesday
9:15am - 4:15pm
Wednesday
9:15am - 4:15pm
Thursday
9:15am - 4:15pm
Good Friday
Closed
---
Help and support will be offered depending on your situation, our aim is to help you through the crisis you are facing, this may be through our own advice, guidance and support as well as signposting to other organisations that will be able to assist with more complex needs.
All contact is Private and Confidential.
The Food bank can be accessed in a number of ways:
by contacting or visiting us directly here at The William Elder Building.
by speaking with a teacher at your child's school.
your GP practice, Jobcentre or Social Services
by Sure Start they will contact us on your behalf.
via the Northumberland CAB if you are working with them.
the Salvation Army will help you direct or contact us to assist you.
or you can also contact NET's who will assist you and get in touch with us
---
Donations
Donations are always welcome for the Food Bank.  We are always grateful to receive non perishable food items, adult and children's toiletries and we also try to keep a stock of cat and dog food to support those with pets at home.
We accept donations here at The William Elder Building, and Asda and Morrisons have collection points open during the Coronavirus pandemic. Other locations are currently closed due to the Coronavirus crisis
We are now back collecting donations, some items we are looking for are:

Bags for Life
Tinned Meat
Tinned Vegetables

If you would prefer to make a cash donation then this is also appreciated and all money donated goes towards purchasing any food there is a shortage of and towards the rent of the room. If you would like to donate a sum of money, large or small then please get in touch or pop in and see us.
You can now donate to us online via Local giving, either a one off donation or you can set up a monthly donation.
---
Distribution
2021
Month
Parcels Given to Individuals and Partner Organisations
Number of Adults Supported
Number of Children Supported
Month
Parcels Given to Individuals and Partner Organisations in 2020
Number of Adults Supported
Number of Children Supported
Jan
63
80
13
Jul
Feb
70
98
20
Aug
Mar
67
93
22
Sep
Apr
Oct
May
Nov
Jun
Dec
---
2018 & 2019

2018
2019
2020
Parcels Given to Individuals in 2018
Adults Supported in 2018
Children Supported in 2018
Parcels Given to Individuals in 2019
Adults Supported in 2019
Children Supported in 2019
Parcels Given to Individuals & External in 2020
Adults Supported in 2020
Children Supported in 2020
Jan
35
42
14
Jan
35
50
32
Jan
56
66
16
Feb
23
31
12
Feb
51
61
32
Feb
50
64
31
Mar
28
36
19
Mar
49
63
26
Mar
70
90
40
Apr
16
21
8
Apr
56
77
32
Apr
113
142
60
May
32
43
21
May
48
70
22
May
125
170
66
Jun
24
35
11
Jun
52
67
28
Jun
96
127
55
Jul
33
44
7
July
63
85
39
July
91
116
59
Aug
28
36
24
Aug
54
73
25
Aug
67
98
61
Sep
36
51
20
Sep
51
61
31
Sep
62
86
51
Oct
31
38
23
Oct
40
51
21
Oct
51
62
27
140 Packed Lunches
Nov
29
38
23
Nov
48
66
22
Nov
53
67
41
Dec
43 Standard Parcels
67 Christmas Parcels
146
157
Dec
49 Standard Parcels
45 Christmas Parcels
118
111
Dec
63 Standard Parcels
60 Christmas Hampers Parcels
81
67
34
91
---
Distribution from 2014 – 2017

| | | | | | | | |
| --- | --- | --- | --- | --- | --- | --- | --- |
| Parcels given to Individuals in 2017 | 324 | Parcels given to Individuals in 2016 | 205 | Parcels given to Individuals in 2015 | 125 | Parcels given to Individuals in 2014 | 47 |
| Christmas parcels given in 2017 | 61 | Christmas parcels given in 2016 | 68 | Parcels given to partner organisations in 2015 | 268 | Parcels given to partner organisations in 2015 | 133 |
| Standard parcels given to partner organisations in 2017 | 18 | Standard parcels given to partner organisations in 2016 | 365 | | | | |
---